World Video Bible School is excited to provide free access to our videos through the Roku platform.
What is Roku?
Roku is a company that makes streaming devices that connect to TVs and other displays. These devices have access to on-demand channels from a variety of vendors, including World Video Bible School. You can connect one of these devices to your TV and your internet, then load the WVBS channel and begin watching our videos.
Here are some simple steps for adding the WVBS channel on your Roku device.
Option 1: Add the WVBS Channel to your online Roku account
Option 2: Add the WVBS Channel directly on your Roku device
Table of Contents for this page:
---
Programs and Videos Available on Roku
---
II. Add the World Video Bible School Channel
From a web browser,
From your Roku device

From the Roku homepage, arrow down to the "Search" option.
 
Type "WVBS" into the search bar (or use the voice search if your device supports it).

Navigate over to the right and click on the "World Video Bible School WVBS" entry.

Click the option "Add channel" and choose "Accept" on the confirmation page.

The channel will now download to your Roku device. After the process finishes, you can either choose "Go to channel" to begin browsing, or click the remote's Home button to see the WVBS channel listed on your Home screen.
 
---
III. Using the WVBS Channel
1. On our channel there are several different categories to browse programs. A category showing all programs is available if you scroll to the bottom of the page.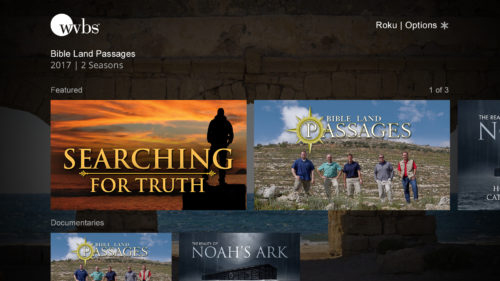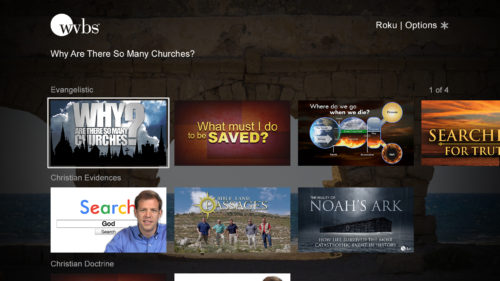 2. Once you find a program to watch, simply click on it and choose "Play" or select the "Episodes" option to see each segment's title and description.
---
IV. Rate the WVBS Channel
Having good ratings helps the WVBS channel be found by other Roku users. Please leave us a rating, if you have found the channel useful.
On the home screen, move the selection rectangle to the WVBS channel and on your remote click the star "*" button. Choose "My rating" and select the amount of stars you believe we deserve. Thanks for your help!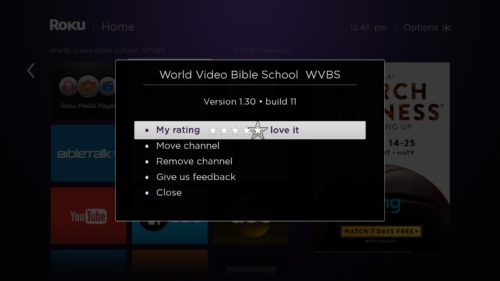 To God be the Glory!