2021 Interactive Bible Reading Plan
Begin the New Year with the New Testament
Synopsis: This daily Bible reading schedule will take you through the entire Bible from cover to cover in one year. Along the way, enjoy book overviews and supplemental videos to enhance your study. The interactive PDF includes direct links to all video content.
Additional Resources:
– Audio Podcasts: Apple iTunes and Google Play
– Ask Alexa to find out the day's reading: Enable WVBS Bible Reading Plan
– DVDs and USBs available to purchase from WVBS.org
Please Share:
– With friends and family
– With your congregation's leadership (elders, preacher, etc.)
– With fellow Christians
– With friends through social media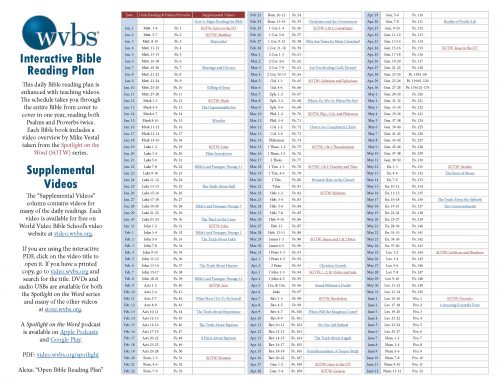 Over 86,000 plans downloaded since 2018.
Featured